---
 "MICK"
Ch. Torums Scarf Michael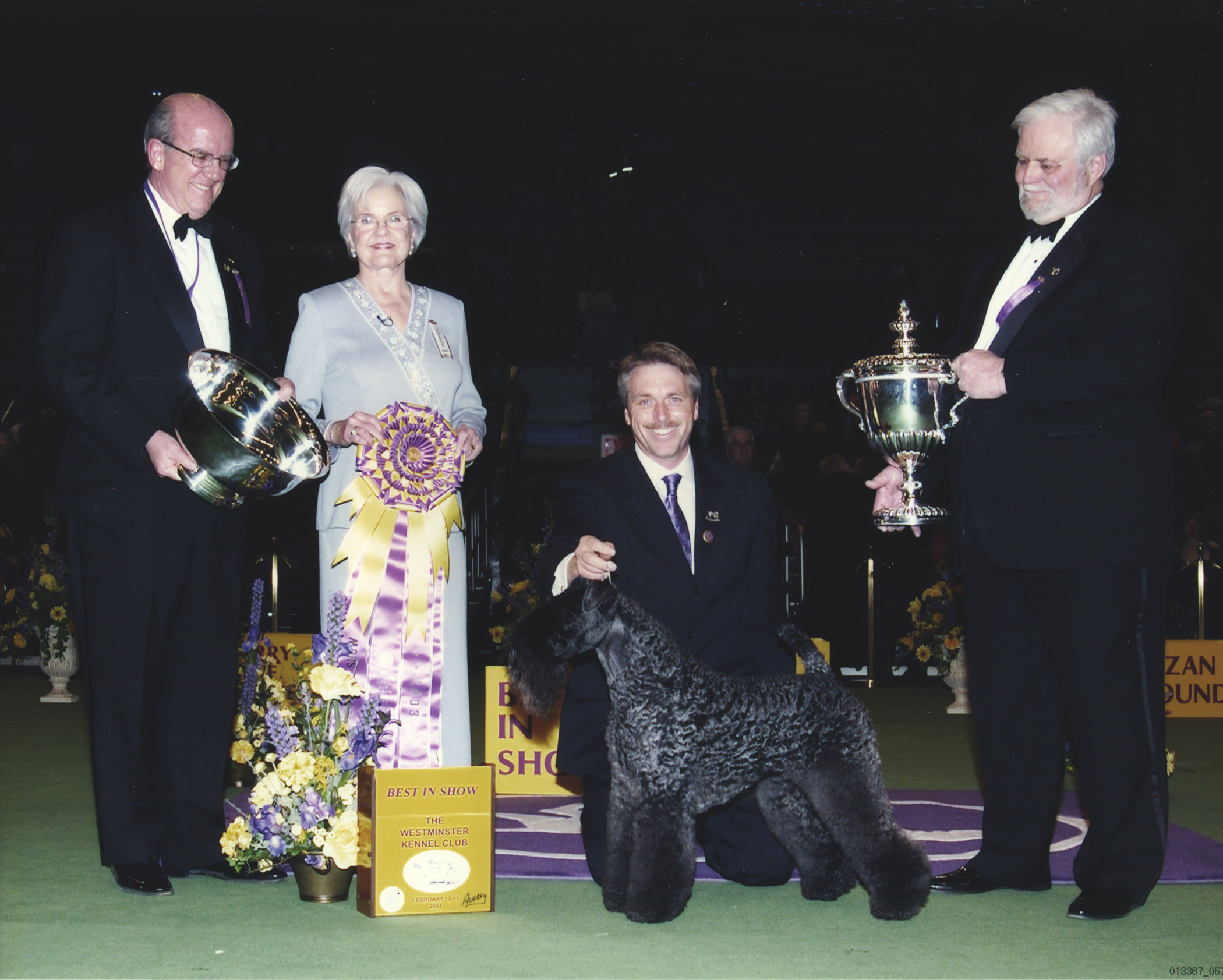 ---
Mick brought me the most important person in my life, Mr. Bill McFadden, then his whole family and the whole world, a world of sculpture of dog. Yes, this is why I started to sculpting , all because Mick inspired me from then until now and I believe it will be more further without limited.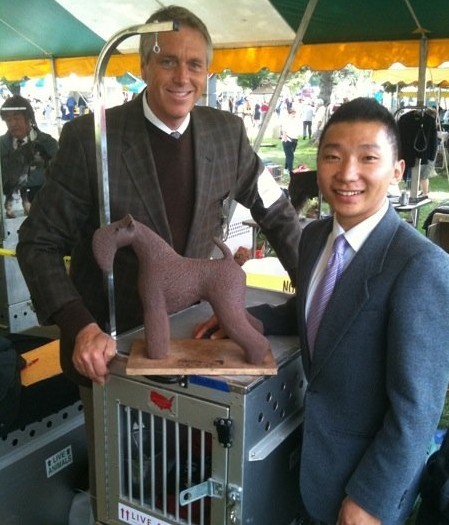 In 2001, I watched the Westminster dog show VCD during my very first dog handling class , one of the dog-handler partnerships left a deep impression on me, it was a tall handler with a stunning kerry blue terrier, their performance made me fall deeply in love and they became my role model and goal. On my journey as a dog show handler in the Dog Show world; the greatest impact on the road and a source of encouragement, they are Bill and Mick, two of the most important friends and family in my life.
To some extent, the power of having an idol is even greater than belief for me, because I have a more specific goal to firm up my mind and spur my determination. Therefore, I went to America to meet Bill, which was my heart's desire at that time.
The strength and fortune of a sincere wish, together with the great help of friends and family, gave me the opportunity to handle the Siberian husky of that time, named Rush, a great show dog, to attend the national specialty in Tennessee, USA in 2009. My friend told me that Bill would show a Siberian husky named Teddy bear to participate at that National, it gave me greater hope and joy at the possibility I could meet my idol finally. (I would like to express my special thanks to the owner of Rush who is also my good brother who supported me all the way, Mr.Peng Jiang, the owner of King's Landing Kennel and King's Landing Arabian. And special thanks to my friend Ego who took the greatest pictures from that trip. )
Bill just like an old friend to me. Every time I watched his video, especially his acceptance speech, I couldn't help but laugh with tears. One reason was I got really excited and happy, the other was because I really didn't understand what he was saying in English...
As a Chinese, the giving of a gift is very important, it can be said to be a formality, but here, its meaning became more important, how can I make this gift express my feelings and help Bill feel my feelings? Making a Mick sculpture became my only idea. Strictly speaking, it was not an idea, because the "outcome" came out by itself before the "thought".
Therefore, the first clay sculpture I made was born, a Mick with a standard standing posture. Because I didn't know how to cast bronze at that time, the gift that was finally handed to Bill was the original clay, and the work collapsed after one year...
In order to make up for this unfortunate incident, I recreated a Mick sculpture in 2012. This sculpture is a sketch that had been lingering in my mind for a long time. A dominant "horse" declares its status amongst all other terriers, and he does so with a classic kick. After the sculpture was cast in bronze, I brought the first limited edition to Bill and he displayed it in his Sacramento home, the most permanent memorial.
Ten years of special affection made my relationship with Bill feel like a father and son. He always introduced me as his Chinese Son, my love and respect for him has become more profound with the accumulation of time. I think I may never finish the story between us, not because of it has too much content, but because our story is still going on...